What I am reading now and reviews of some of my favorite (and not so favorite) reads.
Follow me on goodreads for more reviews
2020 Reads
June
Code Name Helene
Why I am No Longer Talking to White People About Race
May
The Perfect Couple
Beastie Boys Book
Firefly Lane
April
Devil in the White City – Eric Larson
I was excited to read this book after it had been on my TBR for ages. My mom (a history buff) gave me the hard sell recently so I started it on audio but the narration was very monotone and the story isn't particularly quick moving. I found my mind wandering while listening so I switched to a used copy of a paperback.
I get why this book is so well-liked. It's beautifully written and the descriptions spot on. It reads like fiction thanks to Larson's research and structure choices. That being said, it's also boring and not really for me. I'm glad I read it. I'm glad I'm done reading it.
The 5 Love Languages: The Secret to Love that Lasts – Gary Chapman (Audio Version)
I originally read about Chapman's love languages while reading Anne Bogel's Reading People and wanted to learn more. I'm actually hoping to develop an article based on what I read. The concept is great and I think very helpful to anyone in any kind of relationship but the delivery is hard to swallow.
Chapman reads this audible version and there is something very preachy about his tone. I enjoyed the bulk of the content and hearing about the 5 languages but the examples and stories are super cheesy and he manages to share how many people think he is a 'miracle worker' in just about every chapter.
I will summarize by saying again that the concept is great but its a rough audio read. I wish I skimmed the paper book instead.
March
The Lost Girls of Paris – Pam Jenoff
Meh. I really wanted to like this more but it fell flat. It's no secret that I love historical fiction especially with strong female leads so I was excited to dive in but it just doesn't compare to all the other novels in this already over-saturated genre. Bummer.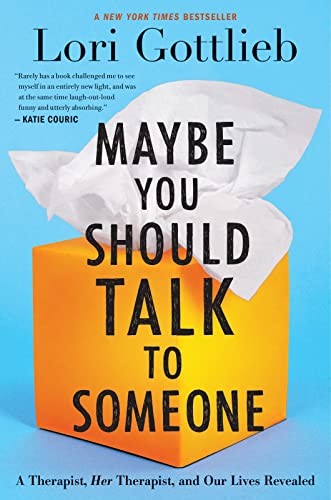 Maybe You Should Talk to Someone: A Therapist, Her Therapist, and Our Lives Revealed – Lori Gottlieb (audio version)
I liked the book a lot but it was very very long and hard to imagine if it was a memoir or fiction. She explains early on that she changed all names and many of the identifying facts to protect the subjects but I was so caught up in the stories that I struggled with understanding what I was reading.
There is one particular story that I found haunting and may not have chose to read the book if I understood what a trigger it might be but I read through it and sobbed and it still haunts me. It's an important part of the story and build-up is necessary to tell it accurately so I will not share the trigger but if you are sensitive, maybe do your homework before committing to the book.
It's a great read and it allowed me to reflect on my own experiences with therapy. The way the author told the stories was truly fascinating. I would recommend this book with the warning of the trigger.
February
Nine Perfect Strangers – Liane Moriarty
You all know that I love diving into one of Liane Moriarty's novels and this did not disappoint. It has all her signature charm and twisty storytelling with a lot of heart and fun characters. Hulu is producing a series based on the novel staring Liane's bestie Nicole Kidman and Melissa McCarthy.
January
The Green Mile – Stephen King
I started the year with reading my first Stephen King novel! 5 stars! I loved it.
I don't think I was prepared for how much I was going to enjoy this read. Of course, I was aware that King was a very talented writer but had stayed away for fear of the horror genre. I didn't realize that so much of his work, including this one, was more supernatural than horror. The prose is so beautifully written and the descriptions of what the narrator is experiencing are truly incredible. I was not scared reading this book but I definitely felt something. As a matter of fact, I sobbed several times.
I won't read another King book right away, I have so many books on the shelf waiting for me, but I'm looking forward to another of his works. I would love recommendations from other King fans on what I should add to my TBR list.
Little Women – Louisa May Alcott
I started reading this as a paper book and it was taking forever. While the story is timeless and beautiful but its not really a 'page turner'. I decided to switch to the audio book and found this new recording. The cast is perfect and I really enjoyed it.
The Dutch House – Ann Patchett
I had been hearing a lot about this novel on podcasts and social media so I was thrilled when Santa Claus left it under the tree this Christmas. It's a great read with fascinating and likable characters that I loved rooting for. The story moves quickly while bouncing around time periods which kept it very interesting. I just wish it was a little longer because I already miss the characters.
Don't Overthink It – Anne Bogel
Anne Bogel's latest book, Don't Overthink It, is not on shelves until March 3rd but as a superfan of the author, I couldn't wait that long. I was thrilled that an ARC (Advanced Reader's Copy) became available to me with my pre-order and I am excited to share a review.
Overthinker was not a characteristic I would use to describe myself. I have my moments where 'analysis paralysis' has taken me hostage for a bit but overall, I can usually make decisions pretty easily. That being said, I have a history of sweating the small stuff as they say, especially since becoming a mom. Time is more limited now and, in a way, more precious. I can't waste time struggling with uncertainty. Additionally, my choices don't just affect me anymore, so I want to be sure I make the right one. I really enjoyed the advice in the book and I'm excited to start putting the strategies into practice in my everyday life.
Fans of Anne's website 'The Modern Mrs. Darcy' and podcast 'What Should I Read Next' will immediately recognize her gentle style and adorable charm. Her anecdotes are so relatable that all readers will be nodding their heads along with the examples she gives of wasting time and energy agonizing over decisions that could be quick or getting caught up in life clutter that makes simple thought process more challenging than it needs to be. Her strategies and ideas for combatting some overthinking habits seem small and simple but with practice can make a big difference.
I am enthusiastically recommending this book to anyone who might gain from adding a little space to their lives and can't wait to gift it to a few people in my life who I know will benefit from it.